Kevin Ross is coming to town and I'm excited to be DJing the preshow. It's been a few years since I've had the opportunity to spin at the Harold Washington Cultural Center and it feels good to be going back!  Check out information on the show below.  Click the pic to buy tix!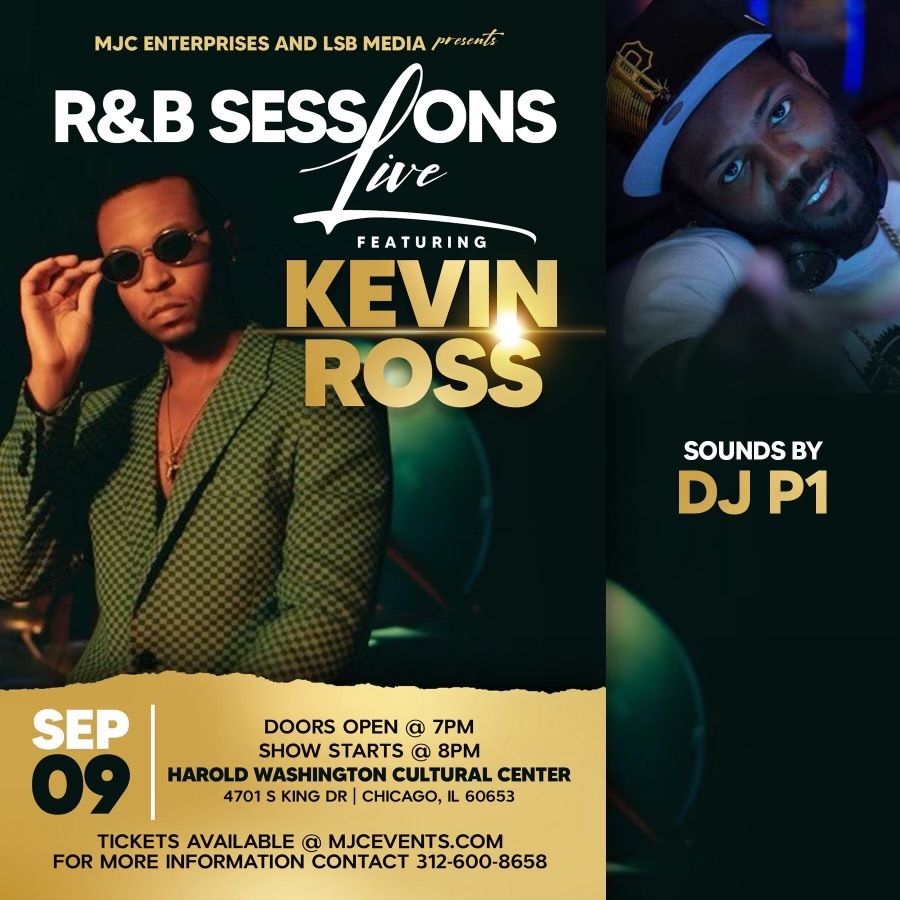 MJC ENTERPRISES AND LSB MEDIA PRESENTS... 
R&B SESSIONS LIVE! - FEATURING KEVIN ROSS! 
HOSTED BY SHARTIA LOVE JONES! 
HAROLD WASHINGTON CULTURAL CENTER (4701 S. KING DR. CHICAGO, IL 60653) 
FRIDAY SEPTEMBER 9, 2022 - DOORS OPEN AT 7PM! 
SOUNDS BY DJ P1! 
GENERAL ADMISSION TICKETS (SEATING ARRANGEMENT FIRST COME/FIRST SERVE) - $50 
VIP MAIN FLOOR TICKETS (SEATING ARRANGEMENT FIRST COME/FIRST SERVE) - $75 
mjcevents.com 
ON-SITE PARKING LOT IS AVAILABLE! ($10 CASH ONLY) 
HANDICAP ACCESSIBLE SEATING AVAILABLE! (CALL 312.600.8658 IN ADVANCE) 
(ALL SALES ARE FINAL, NO REFUNDS WILL BE DISTRIBUTED!) 
FOR MORE INFORMATION CONTACT: 
MARCUS CHAVERS 
TEXT: 312.600.8658 
KEVIN ROSS BIO: 
Music has always been a passion for Washington, D.C. native, Kevin Ross. He attended a performing arts high school and went on to earn a degree from Berklee College of Music. His career began as a songwriter, getting his first placement with Jamie Foxx, which was followed by Ross writing and producing songs for such artists as Trey Songz, Toni Braxton, & Tank. 
In 2017 Kevin released his long-awaited debut full length album, The Awakening. The album's first single, "Long Song Away" peaked at #1 on Billboard's Adult R&B Song chart and at Urban Contemporary Radio with the follow up single, "Don't Go", cracking the Top 15. The chart-topping success of The Awakening led to Ross receiving several award nominations: Best New Artist (Soul Train Awards), Outstanding New Artist (NAACP Image Awards), and New R&B Artist (iHeart Radio Awards). 
Ross continues to make a significant mark on the contemporary music scene as he kicked off 2020 debuting at #3 on iTunes R&B Albums chart with Audacity Vol 1. "Thing Called Love," the EP's lead single, entered the Top 20 on Billboard's Adult R&B Songs chart and was named the top song at Sirius XM's Heart and Soul. The success of Audacity led Ross to be named the R&B Artist of the Year at the 2021 Wammie Awards. Ross' current project "Drive 2" debuted at #1 on iTunes R&B album chart with the lead single "Looking For Love" cracking the Top 10 on Billboard's Adult R&B Radio Play chart. 
LOCATION 
Harold Washington Cultural Center, 60653